Laura / Grand Salvo / Because of Ghosts / Hamster Machine @ Bar Open
Boy, I'm behind in the blogging...
I dragged Darren along to Bar Open last Thursday (30th June) to see 'post-rock' band
Laura
, who I heard on RRR's
Delivery
last week. We also expected
Princess 1.5
(who I've been itching to see) and Registered Nurse (who I'm not so hot on). The gig was to launch an exhibition of live music photos by
Andrew Watson
. We arrived in good time to have a quick look at the photos which were both reasonably priced and quite nice. There was a
great shot
of Dirty Three violinist Warren Ellis and a not as great shot of Mclusky bass player Jon Chapple. If the Mclusky shot was as nice as the Dirty Three one I would have bought it for sure.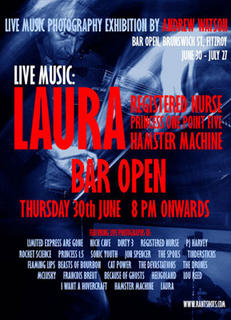 The band room has a nice Andy Warhol look to it. A few couches and some makeshift levels for folks (i.e. hipsters) to sit cross-legged on.
Hamster Machine
was ex-Frente song-writer Tim O'Connor who sang over a backing track. His website describes him as 'Iggy Pop if he were backed by Germans'. This sums him up pretty well. I also don't like Iggy Pop much.
I think
Because of Ghosts
played next. It certainly wasn't Princess 1.5 as there was no Sarah-Jane Wentzki fronting them. I guess she didn't show so they played as Because of Ghosts instead. They were good but a little bland. I was hoping they would rock out live. They didn't really.
Paddy Mann
passed me on the stairs as I nicked down for another round of drinks. I guess Registered Nurse didn't show either because he unpacked his guitar and it seemed that Grand Salvo would be the next artist. Paddy appears to have an issue with being heard. He was just audible the
last time
we caught him. This time I couldn't hear him at all. People talked over him and he stopped, stood up and walked off. We assumed that he'd given up, but this was just a sound-check.
He went on to play a quiet set that I could just make out over the (reasonably quiet) crowd talking. I can understand that he wants to play quietly in order to create a certain dynamic effect, but as a professional performer he needs be responsible for the quality of the show. We are paying to see him. Why can't he play quietly and have the house PA turned up so we can hear?
Laura started around 11:30pm and (without wanting to blow the ending of this tale) blew me away within seconds. They're a six piece consisting of guitars, keys, cello and drums and could be compared to
GY!BE
or maybe
Explosions in the Sky
. Unfortunately I haven't seen those bands live, but I imagine the experience would be quite similar.
Laura frequented the atypical post-rock formula of sparse slow building songs that finish in a crescendo with the whole band as one. They also experimented with vocals screamed through the pickups of a guitar (I thought he was going to play it with his teeth and they nearly lost me) and a song with disheveled drums coming in unexpectedly half way through each verse. I was mesmerised by their performance and I think Darren was as well.
I thought they were unique and interesting enough to seek out both their CDs the following day at
Cumbersome Records
in Collingwood. After a few listens I've realised that the tracks that didn't work as well live really shine on CD and vice versa.
There's a review and sample track on
melbs.org
. I agree with their review - Laura's influences are quite apparent, but it's really nice to have a band playing this stuff locally that I can see live. They are my new favourite band.