Mr Sok & Mr Zoch visit Angkor Wat
On Thursday I hooked up with an (official) Temple Guide Sok and my buddy with the Tuk-Tuk and headed out for a more structured trek. We started at the South Gate of the fortified city Angkor Thom. Sok's family runs one of the vendor stalls so we sat with them for an hour and had some chicken and quite a few cups of Angkor Beer (one of Sok's brother in laws works at the brewery). I met a great many relatives and enjoyed a few jokes with Sok's cousin.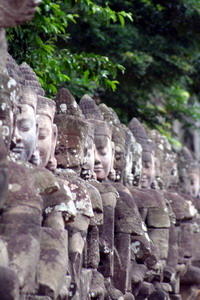 Gods at the gate of Angkor Thom.
The birds in Cambodia say "cheep cheep". The birds in Australia say "expensive expensive".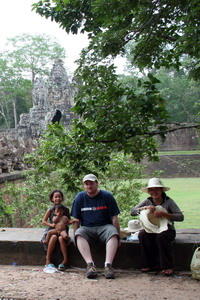 Hanging with Sok's family.
Once the midday sun had lost a little of it's sting (and we'd taken the edge off a little) we headed to Preah Khan. It was wonderful to have someone who could explain the history of the temples and the stories told by the various frescos and statues. I recommend anyone visiting to make use of a guide on their first day and then spend time alone to go over the smaller temples and revisit any favourites. We looked in some detail at the different Hindu and Buddhist sculptures (the Angkor Kings changed from Hindu to Buddhism during their reign) and he gave me a good understanding of where the temples I had previously visited fit in.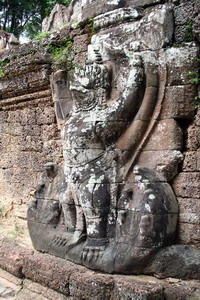 A Garuda outside Preah Kahn.
We visited the world's largest temple Angkor Wat late in the afternoon. Angkor Wat is Cambodia's pride and joy and it's heavily visited by locals and travelers. We took a few shots of the famous "Angkor Wat reflecting in water pool" (with everyone else) and then wandered the inner wall frescos with Sok explaining the stories depicted on each. There's some really interesting stuff when you understand what's going on. I climbed a more impressive set of really steep stairs to the top of the temple and took in the views of the surrounding country-side.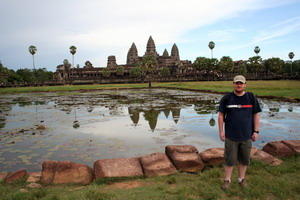 We only had a couple of language mix ups. My favourite was me mishearing a description of a statue of an Apsara (dancer) as having a "smile and tits" rather than a "smile and teeth" (which is apparently not the done thing). Fortunately I kept my trap shut and it clicked in my mind a little later on. In my defense the statue was more voluptuous than it's closest neighbour.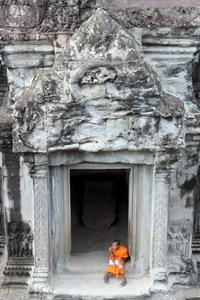 A monk studies at Angkor Wat.
We finished off the afternoon at the Phnom Bakheng temple atop a hill for sunset. 200 or so other visitors joined us, but it was peaceful and surprisingly quite serene. Fortunately Sok had another stall at Phnom Bakheng so we downed a few more drinks and rested out weary legs for a bit.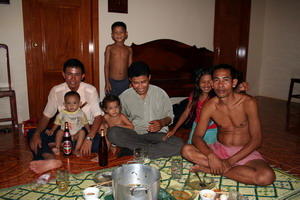 Dinner with Sok's Family.
Sok invited me to join his family at their home for dinner. We sat on a mat with his uncle and a few other relatives and enjoyed a meal of fish with soup and a variety of Camobodian dishes - beef, curry, rice and shrimp. We joked around and enjoyed some beer with ice (which works surprisingly well for keeping it cool). It was great.