Buffalo Boat Tiger
I probably should have been visiting temples and traditional Thai houses and museums and junk over the past couple of days, but instead I've been goofing off playing guitar and pretty much just kicking around Bangkok.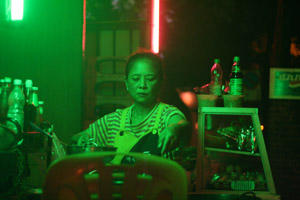 Cat prepares the Khao Pat Kai...
We've found a nice little stall down one of the side-streets where the lovely lady (her name is Cat) cooks us dinner, teaches us some Thai and has a few beers with us. There's a tiny little restaurant inside with karaoke, but we've yet to venture in. Sitting out in the open is much more fun. Her signature dish (or perhaps the only one we can say in Thai) is Khao Pat Kai (Fried Rice with Chicken) and it's not bad at all.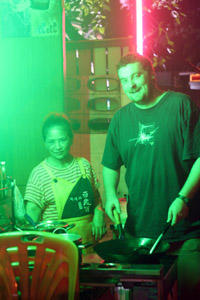 Chris has picked up some odd allergy or virus or something so we're experimenting to find the cause. Funnily enough he appears to have picked it up after eating a hamburger at a shopping centre - not from a hawker stand on the street. The number one suspect on the list at the moment is egg. That makes two of use sick from food courts - no street food casualties.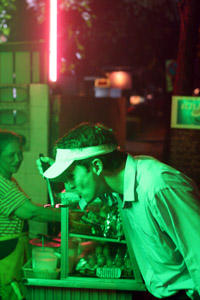 Chris takes the taste test...
I read an amusing quote in Edge magazine a while back that I keep forgetting to mention. They described playing World of Warcraft as 'being locked in a newsagent with an infinite supply of scratch lotto tickets'. Most of my guild buddies have overtaken my character now, so I'm looking forward to some serious catching up when I get home.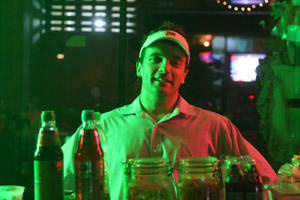 We're going to see My Squared Circle (an indie band from Singapore) at Noreiga's tonight and then we're off on a roadtrip to Kanchanburi for the weekend - home of the river Kwai.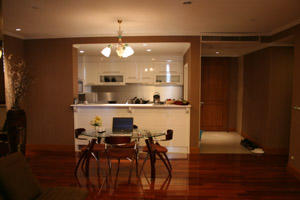 I've included a couple of photos of Chris' apartment as there were a few folks interested in seeing how the other half lives. It's pretty lush.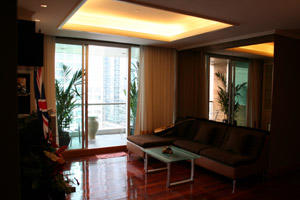 Moore Villa la Moore (sorry).
Blogger's spell check recommended 'hangover' when I mispelt 'hamburger' in regard to Chris' illness above. I wonder if it's trying to tell me something...