Elephants?
I opened the blinds of my 2nd floor room at the hotel to reveal 2,000 Indian dudes standing on the road outside. I don't really know what they do down there. Matty describes it as 'milling'. We wandered through the crowd to the Khar Railway station and bought a couple of 3rd class tickets to Churchgate.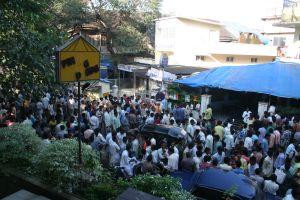 Milling outside our hotel.
The trains here are quite a spectacle. Actually the trains are just old clunkers, but the number of people that squeeze into them is incredible. They leave the doors open and people literally hang out. I don't think the class of ticket matters either as every carriage is packed. They do have a separate ladies carriage that looks much more civilised, but we haven't been able to get skirts that match our eyes.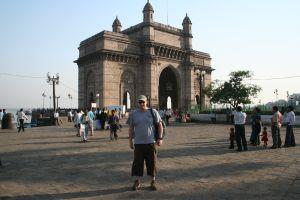 Me at the Gateway of India.
We walked from the station to the famed Gateway of India. We browsed a few hawker stalls on the way and picked up a new compass and a cheap watch for Matty. We encountered a few beggars and touts. The most amusing one was a fellow who was 'visiting from Goa and had lost his passport'. I thought he wanted to stay in Matty's room in return for accommodation for us at his house in Goa. It turned out he just wanted some cash.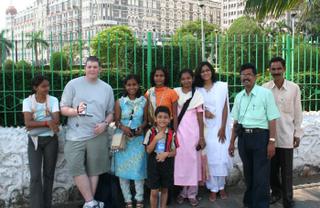 Matt with his adopted family.
The Gateway itself is a nice stone arch. We were accosted by all variety of balloon salesmen, photographers and a holy man that said a prayer over our heads and wrapped a dyed cloth bracelet around our wrists for a few coins. We made short work of getting rid of the bracelet but still ended up with dyed yellow wrists. A family of tourists from elsewhere in India approached us to take a few photos of us with their daughters. They didn't hang around long enough for any chit-chat so I think we were just some novelty white men. It took a while for me to realise they wanted us in the photos and not just taking them.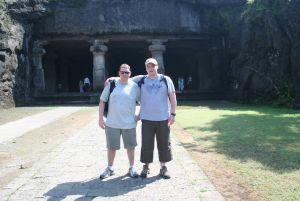 Matt & I outside Elephanta Caves.
We caught a slow 'deluxe' ferry out to Elephanta island and hooked up with a guide to show us through the caves. The guide's name was Madan and he lived in a village on the island. There are some 120 odd steps up to the caves. An odd gent behind us opted for a Palanquin (think Cleopatra) carried by four weary Indians that had to stop occasionally to regain their strength. The passenger bore quiet a resemblance to Colonel Kurtz from Apocalypse Now with his hefty girth, white Indian shirt and sun hat. He turned out to be from Sydney and he was as camp as a 3 bob note.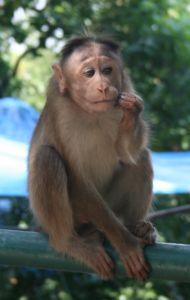 Monkey at Elephanta Cave.
There aren't any actual elephants on Elephanta island. There was a statue of an elephant, but it was destroyed and reassembled somewhere in Mumbai many years ago. There were plenty of monkeys though. Our guide held us back at one cave entrance while a poor unsuspecting tourist wandered in with a bottle of Pepsi. A monkey shot out and nabbed it from him before he knew what happened. We watched the monkey skillfully uncap the bottle and enjoy the fruits of his attack.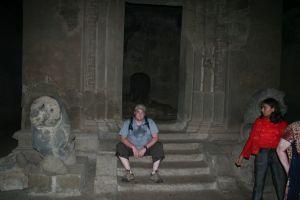 Me inside Elephanta Cave.
The temple caves were quiet interesting. They are devoted to Shiva (Destroyer of Worlds - my favourite of the million plus Hindu deities) and were hand cut into the mountain in the 7th century. Madan explained the meanings of the various carvings and told us a few stories about the temples. We understood about half of it, but I thought it was awesome because many of the same themes were presented at the Hindu temples in Angkor, Camobodia, so I knew a little about it.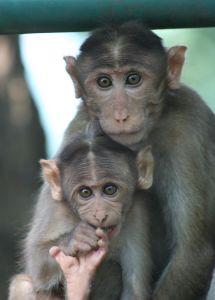 We took dinner at a nice little restaurant in Colaba called Ali Barbar's Cave. We didn't realise until we saw a menu that the food was a mix of Chinese and Thai - not Indian, but we ended up enjoying some really nice Pad Thai and Lamb.
We weighed up the options of train vs taxi as night drew in and ended up walking back to the station after some unsuccessful negotiation with a taxi driver. The morning train ride was nothing compared to evening 'peak'. We crammed into a carriage and watched the people wash in and out at every station. At one of the major stations a serious and synchronised 'group push' was enacted to get everyone out. Fortunately we were on the right side when we arrived at our station. We get a great many strange looks. I'd love to know what people are thinking.
We finished off with a Kingfisher and an early night.