Tell me, Clarice - Have the Lambs Stopped Screaming?
We spent the weekend camping at Starlings Gap - a little way out of Warburton. I drove up with Shew, followed in a convoy by his Intellectual Property lawyer buddy Dave and we met Tayls, Tam and Ethan at the site. We setup the tents in the dark (have we ever not?) and enjoyed a few beers by the fire. I brought along the guitar and played what I thought was a reasonably broad repertoire, but I was still inundated with requests for the themes from Superman and Never Ending Story and The Little Drummer boy.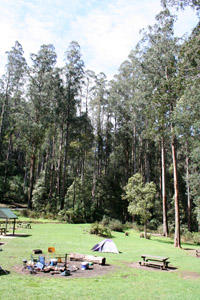 Camp Site at Starlings Gap.
By way of quick explanation - Shewie pretty quickly runs out of pop songs that he can name and I struggle to know any of them, so the requests rapidly spiral into anything that pops into his head - be it orchestral works or Christmas carols featuring drums.
He also doesn't know how to pour a standard drink.
I spent most of the weekend kickin' around reading or strummin' around dodging requests (I wonder how many people do include 'Love is a Battlefield' in their acoustic guitar repertoire?). We had a nice warm fire and the whole place mostly to ourselves, save a few very seriously kitted out bush-walkers. Intellectual Property law plays a big part in both music and software development, so Dave and I had a good yak about it on Saturday night.
The area has been logged for over 100 years and relics of the early sawmills are scattered around the walking tracks. Tayls and I checked out a 100 year old 'steam log puller' (my terminology) near the camp site and he did a darn good job of explaining how the whole thing worked. I wouldn't have been surprised to see him tinker around a bit inside and start it up!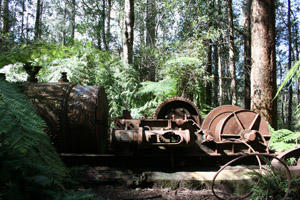 Steam Log Puller (thing).
Darren and I often talk about how there's two separate but almost equally enjoyable parts of going away. The trip itself and all the talking and planning beforehand. Camping has an extra one - having a hot shower and getting clean once you get home. Nothing beats getting cleaned up and chillin' out on a Sunday.
Blogger's spellcheck suggests 'she' as a replacement for Shew.