River Kwai
On Saturday we hopped in the car and headed 130km west of Bangkok to Kanchanaburi to visit the river Kwai. I had expected a pretty rough drive, but it was fine once we'd untangled ourselves from the mess of city roads. Unfortunately we didn't have a decent map (if such a thing exists of Bangkok city) and no compass, so negotiating the roads out of Bangkok was a little tricky.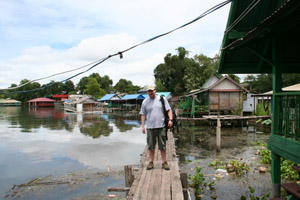 We stayed in a couple of amazing $10 raft bungalows on the river. The River Guest House was operated by a cheery Turkish fellow (one wife in Thailand, one wife in Turkey) and consisted of a web of bungalows floating on the river and a bar (with a pool table). A wonky series of walkways connected everything up.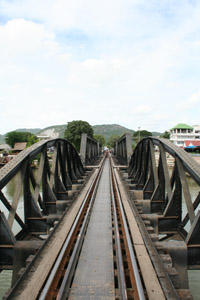 Bridge over the River Kwai
We headed up to the 'Bridge over the river Kwai' and walked across. Chris' great uncle had been a POW here so the place held a special significance for him. On the far side of the bridge we sat with a family who owned a couple of elephants (a brother and sister) and talked shop. We fed the elephants some fruit and took a few photos.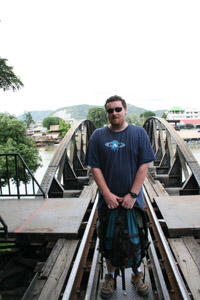 In the afternoon we visited the Allied cemetery. I was quite effected by the thousands of graves of men younger than myself and the inscriptions left by their families.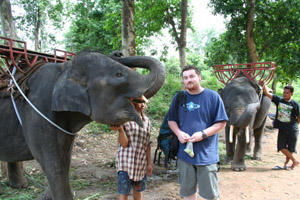 We finished the night at an Irish Bar (the Irish part is a bottle of Jamiesons Whiskey - but it's mostly a bamboo and thatched roof affair) kicking back with Jen, the owner and her friend. A couple of girls from Denmark joined us and then a bunch of Israeli backpackers. We swapped some travel tales and drank a good amount of beer. By the end of the night I was working the bar and Chris was playing Jenga with one of the Thai girls. An insane Swede drifted in and out of the bar all night, dragging along a wife with a violent toothache and a young daughter. I tried to get her to rub her painkillers on the affected area, but I didn't have much luck between the language barrier and her crazy husband popping two pill for every one he gave her.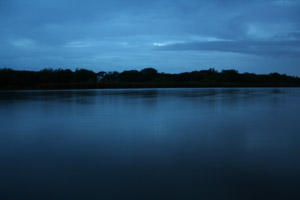 Evening on the River Kwai
Barges dragging floating discos trip up and down the river during the evening blasting out karaoke for the Thai holiday makers. Fortunately they stop pretty early so I managed a good night of sleep (helped by a good dose of liquid muscle relaxant).