Arrival
We flew into Changi around 10pm last night. Our arrival at the hotel was quite a surreal experience. It seems Sharni is some sort of VIP there so we were greeted by a young lady as we arrived and shown to the room with no check-in required. Most of the staff greeted us by name as we walked past. It had a very Lost in Translation feel to it and I was most amused.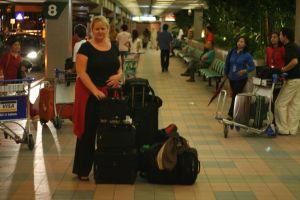 Sharni at Changi Airport.
I went out for a quick wander down Orchard Rd last night around midnight. My memories from previous visits were pretty vague but I recognised a few locations. There's more 7/11s than I remember.

It's quite mild this morning but still very humid. I plan on spending the day wandering.