Community Cup XII
The
Sacred Heart
Community Cup has become an
annual favourite
. This year Tayls, Tam and Ethan joined me at the Junction Oval on Sunday 27th June for an afternoon of rock, (surprisingly) sun and some awful (but lovable) footy between the RRR/PBS Megahertz & the Espy Rock Dogs.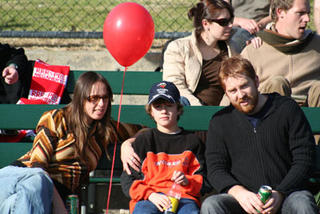 Tam, Ethan and Tayls enjoy a beer and a balloon.
I arrived just in time to catch the short-lived re-grouping of Weddings, Parties, Anything. I'm not sure if they reformed just for this event, but they only played one other gig the previous night. The last time I saw them was supporting U2 in October 1989. Tayls is quite a big fan and I enjoyed them a lot. I've been wondering whether their style of traditionally-rooted folk/rock might make a resurgence in the same way bands like Flogging Molly have for Irish folk/punk. I wish it would, because it has a uniquely Australian character to it.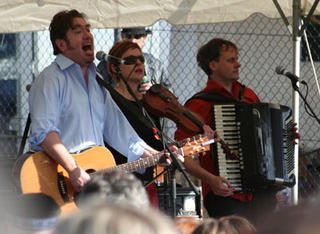 Weddings, Parties, Anything.
The teams jogged onto the field and we decided on our alliances. After some consideration Tayls & Tam went for the dirty Rock Dogs and Ethan and I sided with the beloved Megahertz. I'm not much of a fan of football and this wasn't much of a football match, so I won't go into details. There were the usual scraps and good humoured antics. The Megahertz came back in the final quarter to win by a slight margin. We had the most fun picking out RRR presenters using the Record. RRR Breakfaster Tony Wilson was my pick for best on ground again this year.
Dallas Crane snuck in a few songs at half time. They must surely be the hardest working band in Melbourne. I see their name everywhere but they just don't seem to be able to break away from being a pub band. I've been interested in seeing them for some time and I confirmed that they're too 'straight up rock' for my tastes.
I picked up a Sounds of St. Kilda sampler CD on the way out. It's a pretty mixed bag of musical styles but there's a couple of tracks that aren't bad.
I've posted a few photos here.