Oh Calcutta!
I spent the morning at Sim Lim Square yesterday. It's like a Mecca for men that never grew up - floors and floors of computer gear, electronics and cameras. Sadly the 'low price DVD' stores are long gone, but there was still plenty to see. I spent a couple of hours looking at all the wonderful toys and picked up a Crumpler case for my new PDA.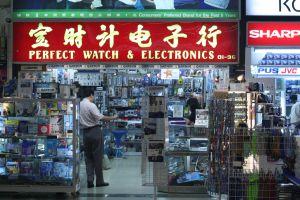 Shopping at Sim Lim Square.



After a morning's shopping I wandered north from Sim Lim and stopped for a drink at a little café. Drinking water has been my greatest expense so far. I then headed further north to Little India which was great because it's not all polished up like the CBD. I visited the
Sri Veeramakaliamman
temple just in time to see the daily forehead blessings with Vibhuti (the white ash from burned cow dung) and handfuls of rice being handed out.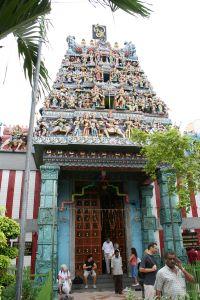 Sri Veeramakaliamman temple.
Little India consists of hundreds of open front stores all selling the same bracelets, traditional dresses and $6 jeans. The buildings are old and brightly painted in pastels. The architecture has heaps of character. I had Northern Indian Thali at the Anand Bhavan vegetarian restaurant. It consisted of a few different curries with roti, naan and some rice. I could barely finish half and it was on the snack menu. It cost less than $5 too.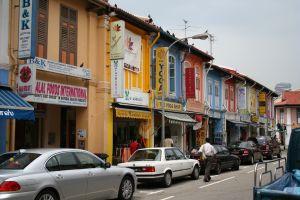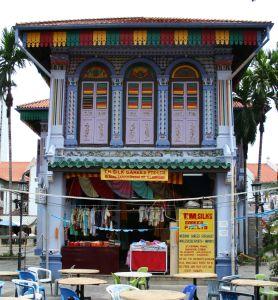 Stopped outside here for yet another drink.
A serious drenching of rain came down on the walk home from Little India so I sat on the steps of a closed bar for an hour and watched some local kids play pool on an outdoor table. The iPod is an absolute saviour in such situations. I put on some chilled beats and did just that.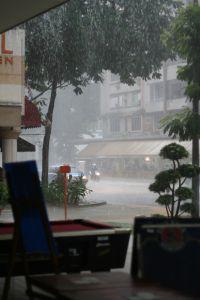 Sharni is teaching some sort of training course with two other E&Y guys - Joseph (from Alabama) and Marco (from Italy). I joined them for dinner and some drinks last night. We ate at a restaurant on the riverfront called Madam Butterflies. It was recommended by the hotel concierge but it was expensive and not much chop. We shared some abalone and duck for starters and chicken, beef and lobster for mains.
After dinner we slipped into a bar called Este for a quick drink (that turned into 4 or 5 slow drinks). It was an odd place. It looked like a strip joint with poles and a catwalk that you walked on from a room with couches through to a band room. The band played some pretty dull pop songs but they were quite competent. Marco suggest something a little more 'rock' during their break and they managed to kick it up a notch in their second set. It turns out Marco played bass in a band in Italy and is quite a rock fan so we spent a good part of the evening comparing notes and drinking the local Tiger beer.