The King and Jack
Monday Morning. Woke Up. Checked Out. Room was way overpriced.
The domestic airport is pretty new and looks great but it has been savaged by 'war on terror' security measures. Much of the original fitout has been temporarily modified in order to satisfy additional checks so it doesn't flow and it's hard to work out where you should be next. We arrived nice and early planning to relax at the gate but the security checks only let passengers in 30 minutes before boarding so we ended up on the floor in the main terminal. The plane was late and I struck up a conversation with a nice bloke from Benalla, based in Chiang Mai, Thailand and working in India on an oil project. His plane was even later than ours.
We arrived at Goa airport and arranged a taxi ride to Palolem beach. The taxi rank used a pre-paid flat rate system so there was no question about the 800 Rupee fee. Although it's only $25 I would have wondered if we were being ripped off otherwise. It turns out the trip is almost 2 hours and over 60km. The zipped off in a little minivan and enjoyed a couple of hours of jungle-y countryside.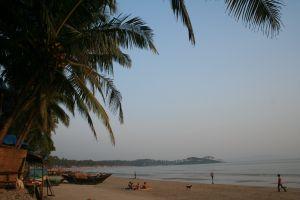 Palolem beach is considered the most scenic in Goa and it really is beautiful. It's about 1km of clean white sand and blue water. The beach is backed by hundreds of stilted beach huts mostly made from bamboo. We walked through a few of the 'villages' and rented the first available room - $5 each, three beds, fan on the roof, mozzie nets and no bathroom. Our village is centred by an old Portugese Catholic church.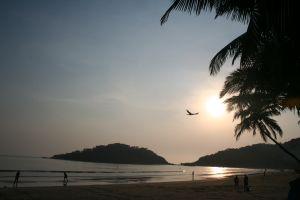 Sunset at Palolem Beach, Goa.
We spent the evening at a little outdoor bar next door with tables and very comfortable wicker chairs on the sand. The sunset was terrific. Kids were playing cricket on the beach in front of us, we were enjoying a slow Kingfisher beer and the DJ was playing Jack Johnson. Travelers wandered the beach during the evening juggling and showing off various circus tricks with staffs and balls on ropes.
It was pretty close to perfect.