Sun is Shining
On Saturday morning we caught another crammed train to Marine Lines station and wandered the town until we found an internet cafe. We caught up with some mail and the recent earthquake up North and then headed off in search of some markets. We found plenty of stalls along Mahatma Ghandi Rd and looked through a variety of knock-off electronics and the like, but we never made it to the actual markets.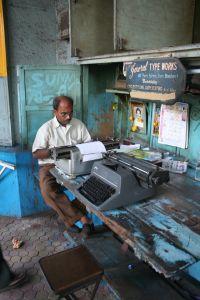 We found a McDonalds for lunch and had to try it out (plus they had air conditioning). I had a Veggie Burger that was the equivalent of a normal hamburger, just minus the meat (and not much in the way of veggies). We wandered past the grand English Victorian style University and then caught a taxi up to Chowpatty Beach.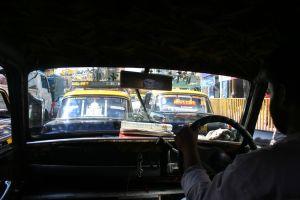 It was hot and the sun was shining, so we decided to kick back at Ideal Corner - a Parsi style cafe, and do some people watching. As the evening drew closer we decided it had reached a civilised hour to enjoy a beer. Unfortunately after a couple of conversations with the waiter we discovered that it was the anniversary of Ghandi's death and Mumbai was 'dry' for the day. We sipped some some Lassis instead.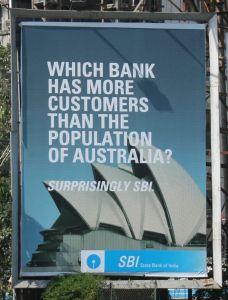 We ate a quick dinner of Tikka Masala and 'Veggi Mexico' (an odd but delicious combination of Mexican and Indian food) with some great Butter Nahn.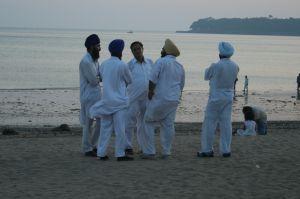 Gents at Chowpatty Beach.
We wandered Chowpatty beach as the sun set and took a few photos. Chowpatty is pretty dirty, so there's not much swimming, but there were plenty of families and couples wandering along. We turned down the many offers of head massages, enormous balloons and rides on little 50cc motorbikes.
We've had what I would consider 'the full experience' in terms of catching crowded trains, so we opted for a taxi home. It ended up taking longer and costing more and it wasn't really much more comfortable. We did get to see some other parts of the city though.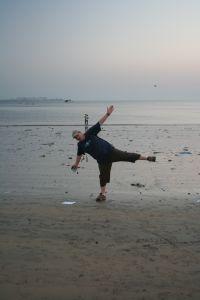 A Fool at Chowpatty Beach.
We finished off with another attempt at a beer at the hotel's bar. It turned out that it really was a 'dry' day so we had a couple of Cokes instead and hit the sack.