Spillage
This morning we visited the Van Gogh museum. I´m not particularly interested in Van Gogh´s paintings, but it was nice to see a few very well known pieces and I enjoyed the few Gauguin paintings that were also there. There was also a temporary exhibit of
Malevich
paintings that I enjoyed very much - mostly for his bizarre world view.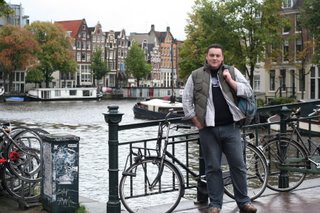 In the afternoon we visited the Dutch Resistance museum. Darren´s grandfather spent time in hiding during the second world war so it was of particular interest to Darren. There were some neat multimedia exhibits, including a small cinema showing various propaganda from the time and some ingenious little radios built to listen to allied radio in secret.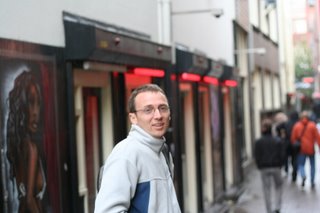 Darren entering the Red Light District.
We headed up to Dam Square and for a walk through the red light district which was exactly as described - prostitutes in windows. I had expected more ´variety´ however they mostly just looked like Eastern European girls dragged over. I think we might have missed a fair chunk of it, but there´s only so many windows you can sheepishly glance in.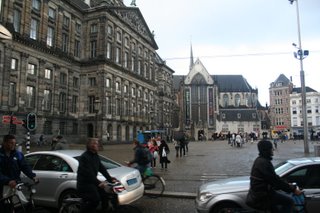 We topped off the night at Melkweg to see American guitar rockers Built to Spill. Melkweg is a great little venue and the band were most enjoyable. They even followed my rock dream of playing on time on weeknights and finishing at a reasonable hour. Man I am getting old.