Two more for the full Turtle Tour
Thursday morning (after bringing my medical expenses up to 150 euros to date) we headed off to visit the Louvre. Stories from previous travellers had indicated that I would be pretty much placed on a human conveyor belt following crowds throughout (once I had passed the 4 hour queue to get in). It turns out that this could not be further from the truth (mostly, and possibly due to the season).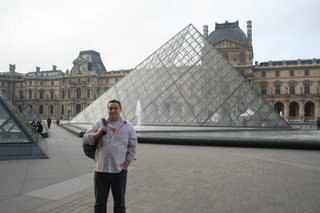 We arrived quite promptly after opening time and were delighted to head straight in, past the famous glass pyramid and straight into the French sculptures. We made our way through a good portion of the collection at a nice pace. We saw the Mona Lisa (from 15 feet away, behind thick glass, with 1,000 rude photographers) which was underwelming, the Venus de Milo (which was wonderfully close) and thousands of amazing paintings, sculptures and everything else.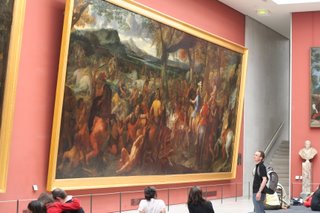 I think we achieved the best we could with the time we had. It's been many years since I have studied art history, so much of it was just looking at nice pieces rather than understanding their importance. I would love to spend time in various sections after digesting much more about them, but sadly I doubt I will get to visit as often as I could if I were living nearby. In the end I decided the experience wasn't so much about seeing the art, but seeing the Louvre itself and the sheer size of its collection. It's an exquisite place to house such a fine collection and I'm glad people are still willing to spend the resources to have such a place.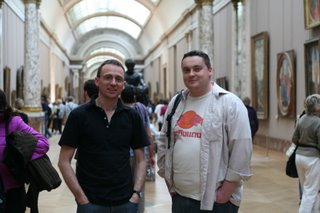 Darren & I in the Louvre - photo (c) A nice Indian Gentleman.
We finished the evening with dinner at a little chinese place (which wasn't bad at all) and a few drinks in the Latin Quater (as per the doctor's orders - although Darren seemed to be following his orders more closely than I for some reason). I enjoy the little quirk that they face all the outside chairs towards the roads in the bars and cafes here (instead of around the table). It makes from good people-watching.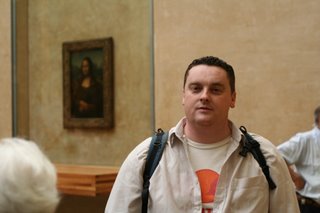 We closed with a night visit to the Arc de Triomphe and Champs-Elysees (which doesn't look as crazy up close).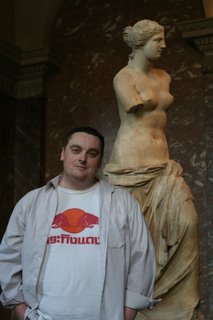 Michaelangelo and Leonardo down
- Donatello and Raphael to go (I'm sure we'll find some in Italy).