82 Hours on the Tarmac
We arrived at Goa airport in plenty of time to discover that a Sahara flight that skidded on the tarmac in Mumbai was still there (3 days later). We got on the plane and ate breakfast while the captain tried to keep the angry mob from revolting. Then we got off the plane and sat back at the terminal for a while. Then we got back on the plane and sat for another while and finally we said a fond farewell to the state of Goa.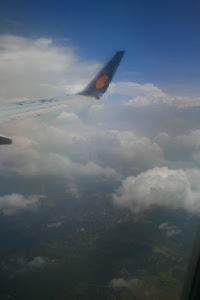 Our travel book makes numerous references to the difficulties a traveller may encounter in Delhi - dodgey taxis, hotel booking scams, hotels with no vacancies, etc. We made an effort to book something and arrange an airport pickup in Goa, but it wasn't to be. I was a little hesitant as we collected our luggage but we jumped in a pre-paid taxi and headed to the first hotel on our list - Hotel Jakaso Inn. We got a couple of rooms and headed next door to the Pegasus Pub (a traditional English Pub in the heart of Delhi).
We polished off a few drinks and Matty retired due to a mild flu. I struck up a conversation with some folks from Spain and joined them for a few (too many) drinks. They didn't have much English and I only had some cowboy movie Spanish so we made lots of hand gestures and kept the chatter pretty simple.