Loo & Aloo
Monday night ended with a nice electrical storm over the beach. We watched for a while under the thatched roof of 'our' bar and then fortunately had a drip free night at our bungalow.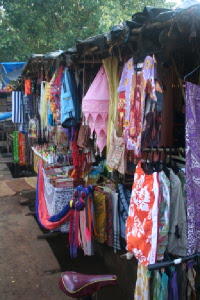 Stalls Palolem Beach, Goa.
I snuck in for a quick dip in the sea on Tuesday morning and then we spent a few hours wandering the stalls. I struggled to remember where anything was despite the fact that there were only 2 streets. We sharpened up our (pretty hopeless) bargaining skills and picked up a couple of CDs and T-shirts.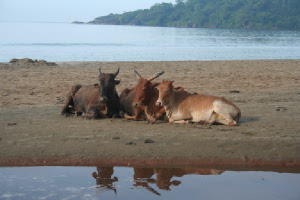 Palolem Cows being Sacred.
We took a mid afternoon taxi back to the town of Vasco da Gama and stayed at a decent little hotel called La Paza Gardens. I think they were a little taken back by my questions about rooms with toilets and so forth, but we'd been staying in some pretty basic accommodation, so I didn't know what to expect. It turned out to be a pretty flash hotel by local standards with a couple of restaurants, bar, gym and pool table.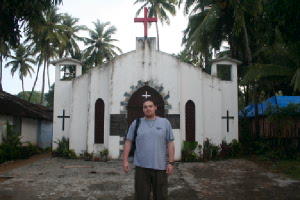 Catholic Church, Palolem Beach, Goa.
We were pretty darn happy to have a warm shower and a few channels of TV to watch.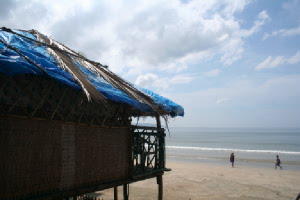 Our village of Bungalows at Palolem Beach.
We sat down for a nice slow lunch of Chicken Tikka Masala, Kebabs and some nice Nahn. We had the Nahn with potatoes and spices as well, but I can't remember it's name. Aloo Paratha maybe. The food was nice and the staff were concerned that we thirsty Aussies were ordering Pepsi after Pepsi but didn't finish the (too large) servings.
We finished the day with a few beers in the empty hotel bar.