Absurdists
I'm in a little Internet cafe and I must be following a well worn path. A drop down box popped up when I typed that title showing previous users' blog titles - the ever faithful 'Oh Calcutta' and 'The Tout (Hear Him Roar!). It's nice to know I'm not alone.
We spent Saturday exploring central New Delhi. It took us a few circles to get our bearings, but we ended up with a pretty good look through the Connought Place (which is a big circle anyway). We wandered through a few markets but didn't purchase any of the billion textile products (what would Matty do with a Sari anyway?).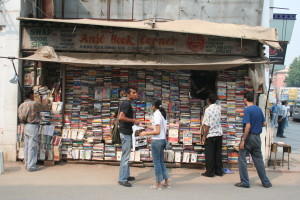 By this time we've become old hands at dealing with the street touts so we decided to have a bit of fun and pretend we couldn't speak any English. This snowballed into our own Eastern European dialect mixed in with an occasional Three Stooges 'woop woop'. We dubbed it Absurdian and it served us very well - in riding us of pesky con artists and giving us a laugh at the same time.
One young fellow, who we named 'Shorty' spent almost an hour by our side trying to steer us to some market while failing to understand a word we said. He certainly wasn't a quitter.