3 Rules of the Fishwife
We arranged a car to pick us up at 5:30am on Sunday morning to make the 200km journey to Agra. The morning drive was pretty uneventful. We saw a few camels hauling enormous loads of grain and a bear. I'm not too worried by crazy driving these days. I just assume everyone else in the country is used to it.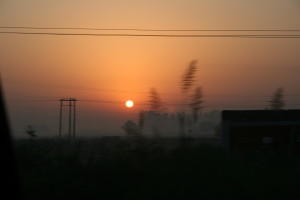 We arrived in Agra and made contact with a guide to take us through emperor Shah Jahan's monument to his late wife - The Taj Mahal. The Taj Mahal is breath-takingly beautiful. The gardens are pristine and the Taj Mahal itself looks like it was built yesterday. The architecture is astounding - optical illusions everywhere, inlaid gems that glow in the moonlight and perfect symmetry wherever you look.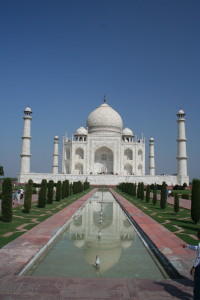 Approaching the Taj Mahal.
Our guide was a really nice guy. He showed us lots of really neat aspects about the design and history and showed me where to get some great photos. When we finished walking through I had a hard time leaving. I wanted to make sure I'd soaked it all in and had captured some memories with the camera.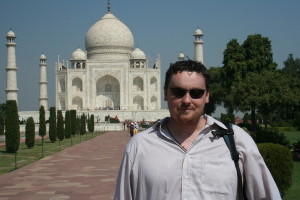 We spent the afternoon at the Red Fort of Agra - built by the Moghal emperor Ackbar and eventually prison to his grandson Shah Jahan. Although the fort isn't as visually spectacular as the Taj Mahal, it's walls hold many remarkable stories of the area and it's rulers. We hooked up with another really great guide who showed us through with a nice mix of history and a few jokes ('Great kings were greeted here by showers of flower petals as they entered. Be careful not to be greeted by the pigeons that live here now').
Our guide told us lots of really great stories. My two favourites were :
Shah Jahan's wife gave him three rules before she died - look after my children (of which they had 14), never marry again, and build a monument in remembrance of me. The monument was, of course, the Taj Mahal but her request wasn't through greed. She knew that her husband would be grief stricken and would take his own life, so she gave him a task that she knew would occupy him for the years to come.
Shah Jahan filled one of his courtyards with water and then populated it with fish. Shah and his beloved wife Mumtaz Mahal would sit and fish from balconies at either end of the courtyard and compete for the most catches. The story says that Shah Jahan never won because he spent his whole time gazing at his wife.
They're a bit soppy but seeing as the Taj Mahal is 'the greatest monument ever built for love' I think they're appropriate. Shah Jahan spent his final days imprisoned in Red Fort and watching over the Taj Mahal from his balcony.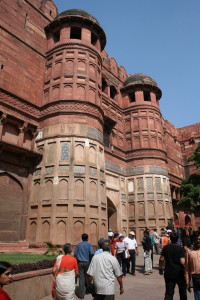 Entering the Red Fort of Agra.
The Red Fort has many clever architectural devices as well. The main one is the cooling system that involved hollow walls containing either people with big fans or running water pumped by elephants sitting on big leather bags (I can't confirm that last bit).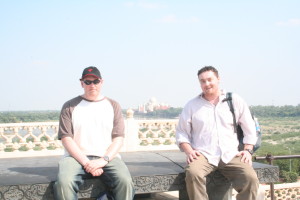 Matt & Ash seated on the Moghal throne.
We jumped back in the car headed back to Delhi. Along the way I saw the remnants of more accidents than I've seen in my entire life. We passed through an oil slick spilled from barrels on an overturned truck and a pool of leaking petrol from an overturned car. Fortunately our driver was a little less insane that most of the others.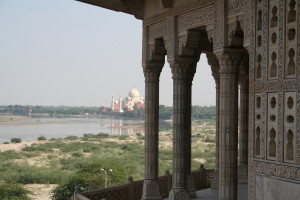 Shah Jahan's view of the Taj Mahal, emprisoned in Red Fort.
We finished off the night with some Southern Indian at Banana Leaf. Matty had some sort of Indian omelette and I had the heavily talked-up 'Dosi' pancake. Both were quite nice and we ordered way too much yet again.