Pendulums
We spent out final morning in Paris wandering through the Bastille area in search of a market. We encountered a group protesting cluster-bombs outside the station, complete with a band and pyramid of shoes (?). We found the market and had a quick walk through the produce stands and trash & treasure flea market (more trash than treasure).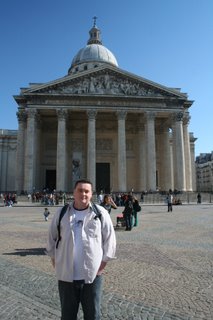 Standing outside the Pantheon.
We headed back past the hotel De Ville towards the Pantheon. On the way we found a nice little jazz trio busking complete with street piano and Louie Armstrong style vocals through an cone amplifier.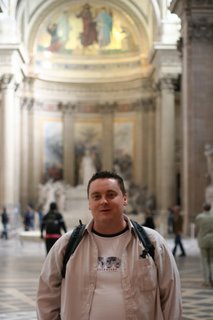 At Foucault's Pendulum inside the Pantheon.
The Pantheon houses tombs for many famous French including Marie Curie and philospher Voltaire. It also houses the first large scale pendulum constructed by Foucault to demonstrate the rotation of the Earth.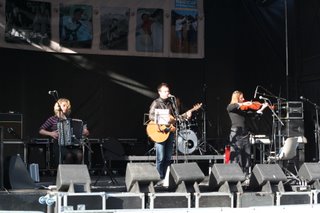 We finished up the day with a nice Japanese meal while we took care of some washing at a laundomat near the hotel.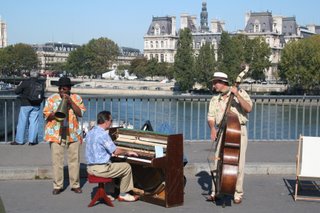 Jazz Buskers in front of the hotel De Ville.