And Two Stealthed Rouge
Sadly that title is a World of Warcraft pun.
Thursday morning we trained up to Montemartre. The train system here is really quite fantastic. I don't think we've waited more than 3 minutes for a train and the interconnecting lines are very handy. We passed through the usual shysters (with some con involving tying some string around your wrist) and spent some time at
Basilique du Sacré-Cœur
. We spent the moring wandering around the quaint (but pretty overrun with tourist shops) Montemartre district, finishing up at the Moulin Rouge. It might be pretty fancy inside (we didn't go in, despite some confusion over the state of clothing on the women).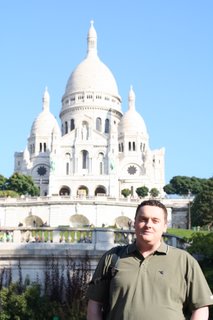 We had a bit of a lazy day planned so we wandered around town outside the Gar de Nord rail station (where we booked our ticket to Belgium) and the old Chaletet section of town (where we had a nice pizza by the river and wandered through a book market).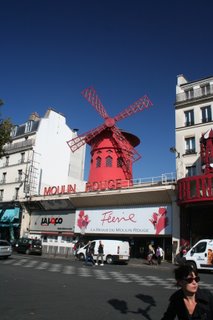 Phew! That's a couple of hours worth of internet cafe blogging but I'm up to date. Sorry for the spelling and factual inaccuracies. Its a French keyboard and a very slow old computer.