Breaking the smoking laws in Amsterdam
After settling into our nice little hotel in Amsterdam we wandered out for a look through the city and a few beers. I was struck by the seedy little cottage market that serves the grass smoking tourists. The coffeeshops themselves are quiet and a nice little quirk, but the paraphenalia shops with their dope tshirts, seeds and various marijuana leaf knick-knacks are all over the place and quite in your face. I guess they serve the English kids on naughty weekends away.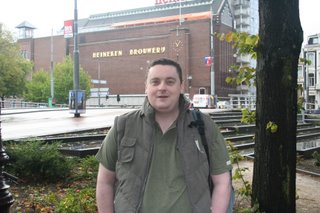 Outside the Heineken Brewery behind our hotel.
We headed a little further south away and popped down into a nice little bar on the advice of a waitress out the front having a smoke. We had a nice yarn with the owner who fancied himself as quite the world citizen - spending half his year running the bar and the other half sailing around Europe. He finished up by bringing us in on a little illegal activity which poor Darren mistook to indicate he was offering us a joint. In fact we were just sneaking a cigarette in the bar which was, of course, non smoking. The whole exercise of having a wet coaster to throw over the ashtray in case the police walked past was theatrical and I think at least partially for our benefit.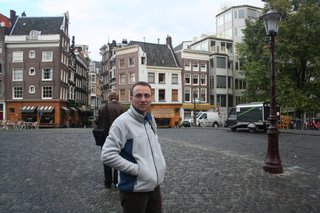 Darren on the streets of Amsterdam.
We stopped past an empty ´techno bar´ on the way home for one more. The bartender advised us that some of the world´s top DJs played there, but given the size and the crowd of us plus two burly German motorbike riders, I think he might have been talking things up a little. They did have an amusing ´age coin´ that he had to give me to buy a packet of cigarettes though.
We finished the night with a grand tradition of greaszy burgers and chips (in mayonaise as the custom dictates).