Through Dresden to Prague
We stopped off in Dresden on our way to Prague for a few hours worth of sight-seeing. We were a little unnerved by the cold harsh concrete as we walked from the station (which later transformed into a nice little shopping strip when the shops opened) but the town centre was home to a giant church and numerous old buildings, many blackened and variously rebuilt after the second world war. I picked up a stunning post-card showing the state of the town after the bombings.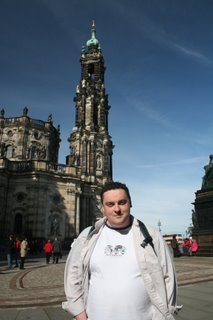 Burnt buildings in Dresden.
We spent a nice afternoon taking some snaps and then headed back to catch the train to Prague. The train system is really amazing - bags easily stored in lockers as we need them, always on time, simple ticketing. It's a very nice way to get from A to B.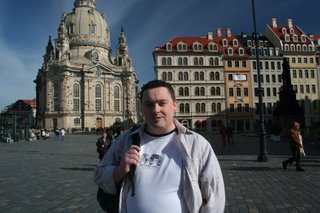 In the main square at Dresden.
We arrived at our little apartment in Prague in the evening and headed directly cross the small cobbled street to the Jazz Cafe. No jazz (in fact they played Ozzie Osbourne and Michael Jackson at times), but it was smokey and cozy and the beer flowed freely.