Aunt (Johor) Bahru
I collected my newly tailored shirt on Saturday morning. I was happy with the result and probably would have considered more if I planned on being in an office any time soon. It wasn't any cheaper than a shirt at home, but it's nice to have something cut to fit. I suspect someone might tell me that I paid double what I should have.
Sharni and I decided to visit Johor Bahru just over the Malaysia border to do a bit of shopping. Our hotel doorman gave us a couple of travelers tips on the way out (basically don't get pick-pocketed) so I was a little hesitant but I figured I've been in enough dodgey cities not to fall into any obvious traps. Sharni had been there before as well. We visited one of the many, many Starbucks on the way to the taxi and I realized it was the first one I've ever been in.
We took a Malaysia operated taxi from the Singapore CDB across the border for SNG$40 each way. Sharni told me that they have to comply with strict regulations when working in Singapore so as not to compete with local taxis (e.g. they cannot stop anywhere apart from their taxi rank). Our driver Mr. Shan was a pretty abrupt fellow, but he warmed to us on the ride home. I suspect it was mainly language difficulties. He said he spoke some English but not 'clever words'. I wish I knew even just a few dumb words in other languages.
The drive is one long highway with trees on either side. We passed a Singtel building that had the biggest satellite dishes I've ever seen. I guess it's the main point of presence for the country. At the border we saw at least 1000 motorbikes queued 5 or 6 across waiting to clear the border control. Mr. Shan advised me that these were Malaysian nationals who worked in Singapore and commuted. The drive is about 30 minutes from the Singapore CBD to Johor Bahru. We cleared both country's border control without any issues. I also realised it was the first time I've entered another country by land.
Sharni couldn't remember the shopping centre she'd been to before so Mr. Shan selected the biggest one for us – The Holliday Plaza, so named for it's proximity to the Holiday Inn. Johor Bahru reminded me of Port Moresby in PNG. I don't think I'd like to walk the streets at night. The shopping centre, however, was just like any in Singapore except every second store had a few legitimate DVDs out the front and a young fellow eagerly motioning for you to pass through a door to their 'back room' where any movie you like can be had for 6 Ringgit (about $2 Aussie). It appears much like Singapore previously was – piracy is policed, but only in a very cursory manner.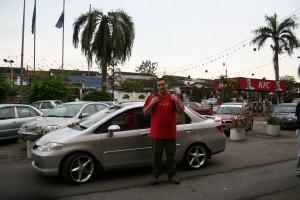 Me outside the Holiday Plaza Shopping Centre.
We bought a few very cheap bits and pieces. I grabbed a wallet and a pair of Air Jesus (sandals). Sharni picked up some girlie stuff and we grabbed a few DVDs (3 or 4 music ones that I didn't expect to see elsewhere). Mr. Shan arrived back at 5pm and we headed home.
On the way back to the hotel we stopped off at Sim Lim Square for Sharni to buy a zoom lens for her camera. I must admit that I have been well and truly schooled in the art of bargaining. It's like a science with her. I was mostly worried that no one was making enough margin to feed their kids. I think that was naïve.