Sight Seeing
I dropped into one of the many many tailors here on Wednesday night to pickup a cheap shirt and pants for traveling. We looked through a bunch of different fabrics and patterns and decided on some simple neutral colours. I was shocked to discover that I would be up for $400 instead of the $100 I had expected. We did a little bartering and I ended up with a $70 shirt to be collected tomorrow.
Yesterday I caught the (simple, efficient) MRT train service to Raffles Place to see a few sites I'd made notes on while researching the trip. I started at Salvador Dali's statue on Newton which was cool - spooky and conservative at the same time. It stands in the atrium of a bank building.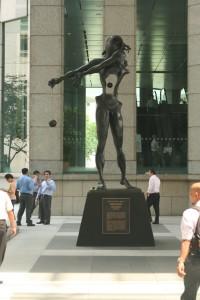 Dali's tribute to Isaac Newton.
I then walked past the Fullerton hotel (which is a remarkable building) to see the Merlion statue that is the symbol of Singapore. A few old fisherman were sitting around, so I watched one fish for a while. It was a bit like Ultima Online but he didn't catch anything and I didn't feel my fishing skill improving, so I moved on (sorry, horrible, obscure, nerdy joke). I then crossed the Singapore river and walked up to the location of Raffles first landing. There was a statue.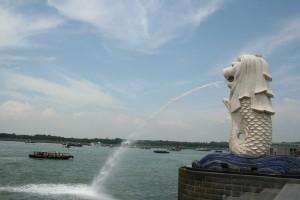 The Merlion statue.
With the sun beating down and plenty of time to fill up, I hopped on a riverboat to see some more sights. I discovered that I was at the same spot that we came to for dinner on Monday. It's great how much more you absorb of your location when you take the time to travel and don't just catch taxis back and forth.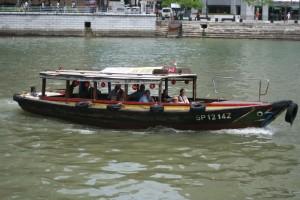 Riverboat.
The riverboat had been patched up plenty of times but it ran at a nice slow pace so I sat back and relaxed for an hour. One of the boat-hands told me that the government plans to de-salinate the river in the next 5 years. Unfortunately I didn't get to ask him why.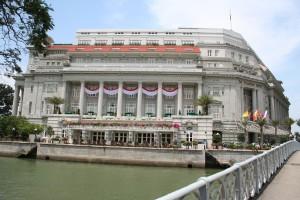 Fullerton Hotel (previously the Post Office).
I wandered south to visit the Sri Mariamman temple and then Chinatown. I had an interesting conversation with a gent who claimed to sell elephants. Apparently they go for between $20k and $30k depending on colour. I can't verify the truth of any of this.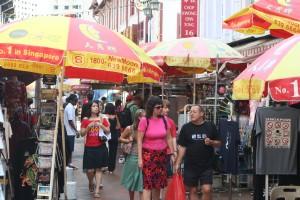 Chinatown.
Chinatown is a little dull compared to little India. By this time I've been accosted by enough tailors. One did offer me a cold beer though. The shops seem to sell much the same goods but there were a few with an odd assortment of dried squid and the like. I sat down to watch a street performance just as they decided to open a sewer for some works, so I took that as an omen to head home.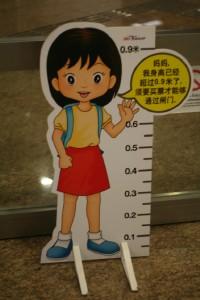 Fortunately I was this tall so I could ride the MRT.
Poor Sharni appears to have developed an inner ear infection so we spent a quite night in the hotel. Hopefully she will get to a doctor today as it may affect her ability to fly home on Monday.