Almost a Dawn Treader
We hopped on the train and headed through Munich and Zurich to our destination in Bern, Switzerland. I can't remember whether I mentioned it, but our trip was a little askew by this point. We had originally planned to visit Berlin, however on attemping to book a hotel by phone we were laughed at heartily and told that it was the anniversary of the day the Berlin wall came down and that there would be nothing available anywhere. We decided instead to go to Prague (which was great) and then we pretty much had a coin toss to decide between Switzerland and Austria. The Swiss won and we arrived late at night. Our hotel was old and quaint with a 100 year old wrought iron lift (very cool) and a girl at reception who appeared to be on Lithium (turned out to be amusing at least).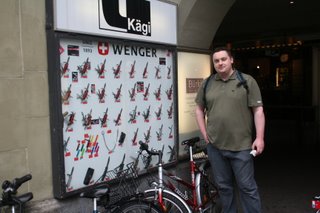 They just call them Army Knives.
Our first day was spent wandering around town. We spotted some street chess, ate some bratwurst for breakfast and enjoying being in a modern city. Bern is incredibly clean and tidy. They also make heavy use of the Helvetic font in their signage, which I like a lot. We planned to do a simple load of laundry but discovered the only laudromat in town was a 20 minute walk, so it turned into a bit of an afternoon job. We were greeted at the laundromat by a young fellow with a camera who explained that he was doing a school assignment and asked if he could take a few snaps while we washed. We were happy to oblige.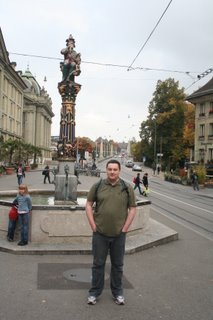 Ogre eating children statue.
A few photos, a couple of cigarettes out the front while we washed our 'smalls' and we were best of friends. We wiled away the afternoon drinking coffee and getting the run down on all matter of topics from where to find a decent band to why the Swiss hadn't joined the EU. It was a really great change from our routine of walking from sight to sight and the churchmuseumchurch blur. Despite a few hours of chat we forgot to exchange names but hopefully he will send through a copy of his work (a photo essay on 'washing day').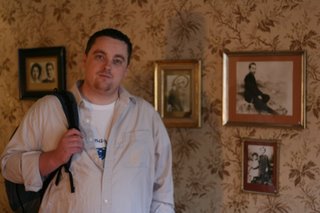 Dropping in on Mr Einstein at home.
Our second day more than makes up for a lazy afternoon. We started off at Albert Einstein's house (small but worth a look), we wandered the length of the town to the bear pits (which celebrate either the wrestling, capture, hunting or shooting of a bear by the town's founder - our version of the tale is expanding with each discussion))and then took a great walk up through the hills to the Paul Klee museum. We got some hopefully great shots looking down on the town.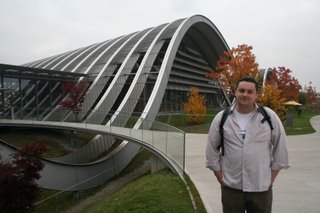 Outside the Paul Klee Museum.
I am not really familiar with Paul Klee's paintings, but Darren is a bit fan. The museum is housed in a great steel and glass wave shape (something, but not much, like the Sydney Opera House). I did enjoy wandering through looking at the works. Sadly there was quite a lot of technical explanation (including some cool looking spectrum analysis) but it was all in German. There were a handful of very cool Kandinsky paitings there too. I think they shared a studio.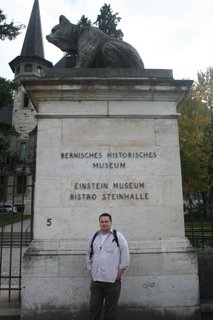 We hopped a bus back to the Einstein museum. It was cool and I was really looking forward to it, but it was maze-like and our feet weren't really up to it. I lost steam half way through and wandered the rest in a bit of a daze. We headed back to the hotel to rest up before the evening's proceedings.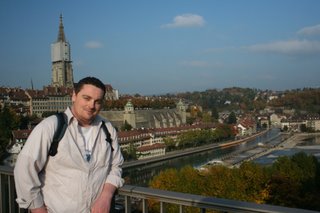 Darren and I are both fans of instrumental music and particularly the post-rock genre. We had been keeping our eyes out at each port and were disappointed to see 'A Silver Mt Zion' playing either a week before or a week after we arrived in each city. We noticed a poster for the band Caspian who I vaguely remembered were either post-rock, Coldplay like generic pop or a band I hadn't actually heard of at all. We looked them up on Darren's iPod Touch (a miracle of modern technology) and discovered that they were right up our alley and playing at a place called Bad Bonn which might have been pretty close. After a little research we discovered that Bad Bonn was in fact an old house, at the end of a 1km stretch of cornfields, in a small town called Duringen, about 30 minutes train ride from Bern. Of course we were going...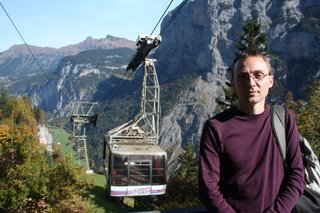 Darren arrives at Gimmelwald.
We hopped on the train and headed out, carefully noting down the return timetable and working out our contingency plan of getting the last train, last bus (which might or might not have been running), getting a taxi (which was estimated at up to 200 Euros) and being stuck sleeping in the cornfields (amongst the cow bells). We wandered down the kilometre of corn fields behind a few kids who were clearly going to the same place and arrived at a little old pub in the middle of nowhere (in Switzerland of all places).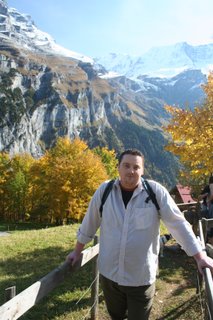 We knocked over a couple of decent sized beers and thoroughly enjoyed local act Beautiful Leopard and a good chunk of Caspian's set amongst 50 or so other punters (including a French kid who had driven 70km and asked us what language they spoke here). Caspian were a bit over the top (post rock without any of the dynamics) so we weren't too fussed to leave a little early and catch the last train back. A half drunk wander back through the Swiss cornfields at midnight after seeing a band is one for the books.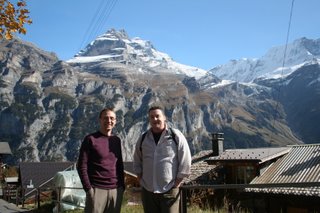 The next morning we jumped an early train and made our way up to Gimmelwald in the Swiss Alps. We had originally planned to visit Jungfraujoch (the highest train station in Europe atop a snowy peak) but our schedule didn't allow the whole day trip to get there. We took a mountain train, bus and finally cable car up with stunning views of the snow covered mountains to the little hamlet of Gimmelwald. The scenery was vey reminiscent of Swiss postcards and the mountains were stunning. We spent a few hours taking photos and having lunch and then caught the next train through Milan to Bologna, Italy.