A Load of Bologna
A nice Pakistani pizza delivery kid on a scooter escorted us to our hotel in Bologna as we had arrived quite late. Delightfully we also had two separate beds. We've been dealing with a double bed with one doona, a double bed with two doonas, two singles right next to each other and finally we had a full four inches of space between beds.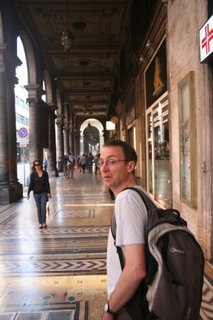 Darren wanders the Bologna streets.
We headed to a local pizzeria to try the exotic foods of Italy that I've heard so much about. Actually the pizza was quite nice and no doubt pizza will get a frequent mention in the coming days. The old mama in the kitchen took a shine to Darren but sadly he missed the kiss on the cheeks.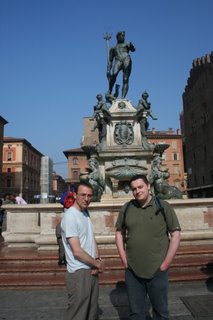 Two tough guys at the statue of Neptune in Bologna.
Our next day was spent wandering through Bologna. There aren't any grand world famous monuments but it's a great little town. We started in a little outdoor book market (all these great bookshops and nothing we can read) and just ambled about finding the leaning towers, a single canal and another pizzeria for dinner. This time the waitress took quite the shining to me.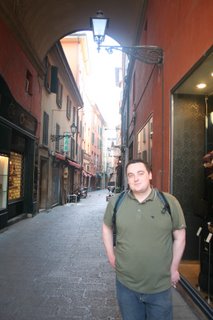 Looking for lunch in Bologna.
Our next day started with an hour on the train to Florence for a day trip. Despite our best efforts, we didn't actually have tickets so we camped out in the stairwell like a couple of hobos hoping the conductor wouldn't make it to us. He didn't. We arrived in Florence and took in the huge Duomo church and square. It was pretty darn busy and the queues to enter were enormous. We wandered around to the museum to catch a glipmse at Michaelangelo's David statue but unfortunaely this was also closed (never visit Europe on a Monday).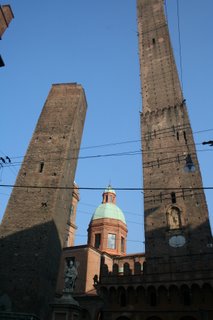 Leaning towers in Bologna.
Undetered we jumped on a double decker tourist bus for a loop of the city. It gave us a nice quick overview of everything and we used it to drop us off at the Piazza Michaelangelo for some great views of the city (and a replicate of the David statue so we didn't completely miss out). We also stopped for some lunch but the twelve dollar cokes caused us to go thirsty.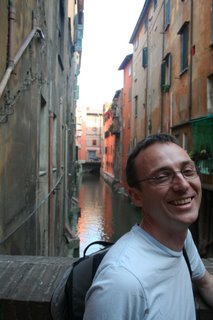 He's Dutch. Of course he loves a canal.
A final stroll down through the hills and we were back on the train to Bologna and into the university district for a few drinks and (and this part may shock you) some pizza. Which was also good (and twice the size of the plate).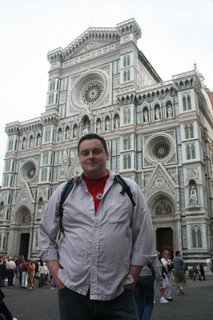 Duomo church in Florence.
This morning we caught a train to Rome and we're now sitting in a laundromat finishing our laundry and using the internet (what a great combo).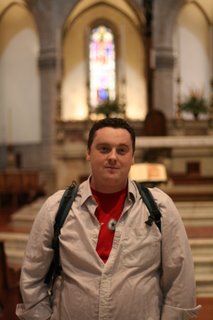 Phew. I'm officially up to date.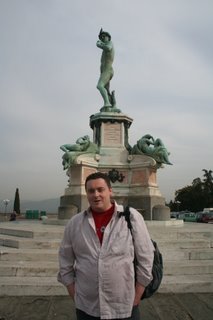 Michaelangelo's other David.