Hookahs & Nemo
I got up mid morning on Sunday and wandered down to the beach. Lau and Kylie had gone out for a day of SCUBA diving. Diving here is very cheap and very good.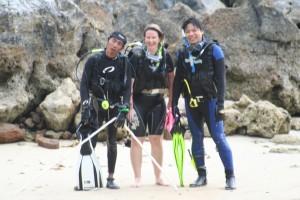 Dive Instructor with Kylie & Lau.
I joined Andrew and Nat for a morning snorkel around the reef that surrounds the island. We saw a remarkable number of tropical fish and even a turtle. Kylie left us a disposable underwater camera, so we took some silly snorkeling shots and a few fish. The reef is only about 2 - 5 metres deep so we could get nice and close to the fish and coral.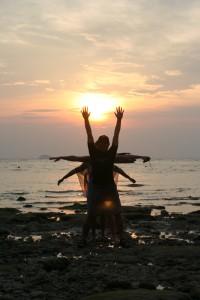 Lau, Suhana & Nat transformed.
As well as a police station, Salang Beach has a bottle shop, a couple of restaurants, a supermarket and more diving instructors than you could poke a stick at. It's also home to a great many cats, roosters, hens and chicks, all of which wander freely.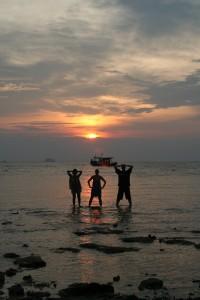 The afternoon was spent snorkeling and snoozing on hammocks. Mother Nature managed a decent sunset for us (we got shutdown by clouds the previous night) so the cameras came out. We proceeded with as many stupid poses as we could fit into the last hour of sunlight. Kylie and Lau returned with some great diving photos, including some pics of Nemo.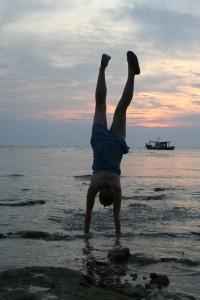 Natalie mentioned that she would like to try all the different varieties of rice so we made dinner a 'Rice Challenge' and ordered one of each type on the menu. Although it proved to be an amusing theme, most of them were the same and we all ended up sworn off rice for a little while.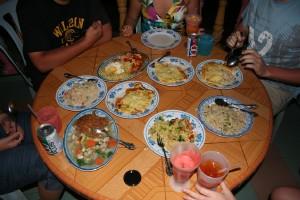 After dinner we retired to one of the two beach bars and played some more cards, drank a few Tiger beers and listened to some pretty reasonable dance music. I had joked with Lau the night before that we should get a Hookah (as were being smoked by many others at the bar). He was surprisingly calm despite a misunderstanding between Hookahs and Hookers. His main concern was how to accommodate me on an island with no working girls. It turns out they're called Shishas here anyway.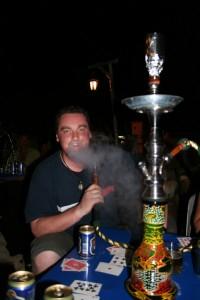 Me enjoying a late night Shisha.
We passed the Shisha around and smoked some strawberry flavoured tobacco. I don't think it's actually tobacco. It's a cube of some type, but you get strawberry flavoured smoke when you suck on it. It's fun once in a while despite not having any effect other than making you look like the caterpillar from Alice in Wonderland.
Everyone got a little sleepy from the day's activities so we decided to give up the cards and call it a night.