Like Normal Malaysia, But Smaller
We woke early on Saturday and washed clothes in the shared Laundry at Andrew's apartment. After a week of washing in a hotel sink it was nice to have proper clean clothes.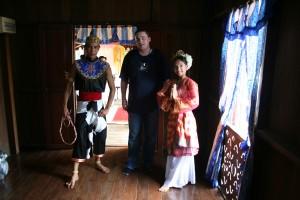 Local Costumes at Mini Malaysia
Lau arrived at Andrew's place and we drove about 90 minutes to the state of Malaka. Malaka is where the first town was started in Malaysia. We visited Mini Malaysia where an example of each of the 12 state's houses are shown. Mostly the houses are wood with a tiled or thatched roof. They are all build off the ground (to save them from flooding?). The 'long houses' from Eastern Malaysia are large and would house numerous generations of a family. They also have very uncomfortable bamboo floors.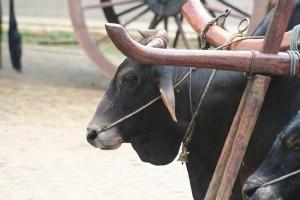 After Mini Malaysia we visited the town of Malaka and enjoyed a delicious lunch of the locally renown 'chicken and rice' with some fish and calamari. The restaurant was so busy we had to queue outside. After lunch we wandered the streets and took a few photos. I guess the closest approximation would be Daylesford to Melbourne. A few tourist shops and some local flavour.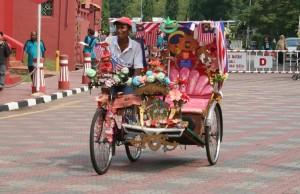 Local Transport at Malaka
We drove back via Port Dickson. The name was somewhat familiar to me - the guys pointed out that ExxonMobil has a refinery there. We stopped the car and wandered through a market, snacking on chicken sate (satay) sticks from a street vendor. One thing is very clear in Malaysia - they like to eat. The vendor enquired whether they would be too hot for the 'Mat Sallehs' - the local name for foreigners. Fortunately they were not.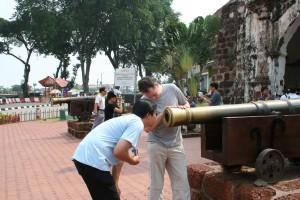 Lau & Andrew inspect a canon at Malaka
The sun was a dull red disc behind the hazy sky on the way home. As we drew closer to KL it was like a foggy morning. It turns out that fires to the east in Sumatra were causing smoke to drift over to Malaysia. It's still a little smoky a couple of days later.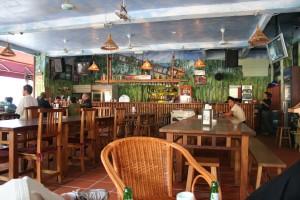 We finished the day with a 'light' dinner at a restaurant next to Andrew's apartment. They had tanks of live sea creatures for us to select, so we did a lap and marveled at the weird and wonderful sealife before deciding to stick with rice, vegetables and some calamari. One creature (labeled a 'Geoduck') stood out. It was a large clam that appeared to have a baby's arm growing out of it. The waiter pulled one out for me to hold but luckily I caught onto his rouse and held it away from me as it engaged it defense mechanism and sprayed a jet of water.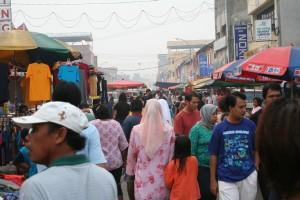 Shopping at the Port Dickson Market
I don't think I could select something from a tank with the intent to eat it.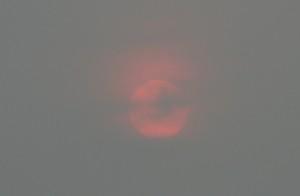 Red Sun due to fires in Sumatra