Giggity Giggity
It's odd how life imitates art.
Last night I watched 'documentary comedian' Dave Gorman's
Googlewhack Adventure
. It's a very entertaining one-man show about his travels using the
Googlewhack
game as a theme. One of the main premises of his show are the astounding coincidences that occur on his journey.
A less exciting coincidence is that Google have just recently included portions of Australia in their
Google Maps
site and I spent the last hour finding my house so that I could stick a red arrow pointing to it and upload it here :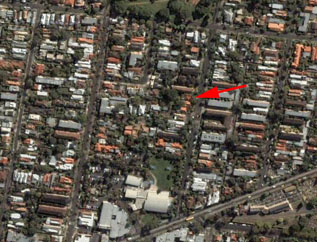 I am here.
It surprised me how long it took to locate my house. I even had to resort to tracing the roads from a recognisable landmark to my house using a copy of the Melways. For those who have been to my house, that's the Leisure Centre at the bottom of the street and there's High Street, Kew running roughly horizontal under it. Note also the enormous tree in my back yard that appears to be 3 times the size of my house!
Unfortunately the resolution for much of the east of Melbourne is quite poor, so depending on where you live you might not have much luck. Here's the
West Gate Bridge
though.
It's quite remarkable how hard it is to recognise landmarks from aerial photos. I've traveled the same route to work for almost 10 years but I was unable to trace it on the map without street names. I even thought the maps might have been 30+ years old at one point due to the amount of open green space on the maps.
I don't think I made it very clear but the amusing coincidence is that I watched a show about Google last night and then used Google today. Imagine that...using Google.
It's also amusing that the spell-checker on the Google owned Blogger site does not recognise the name Google.